Mulch & Stone Application
Mulch & Stone Application
Mulch & Stone Application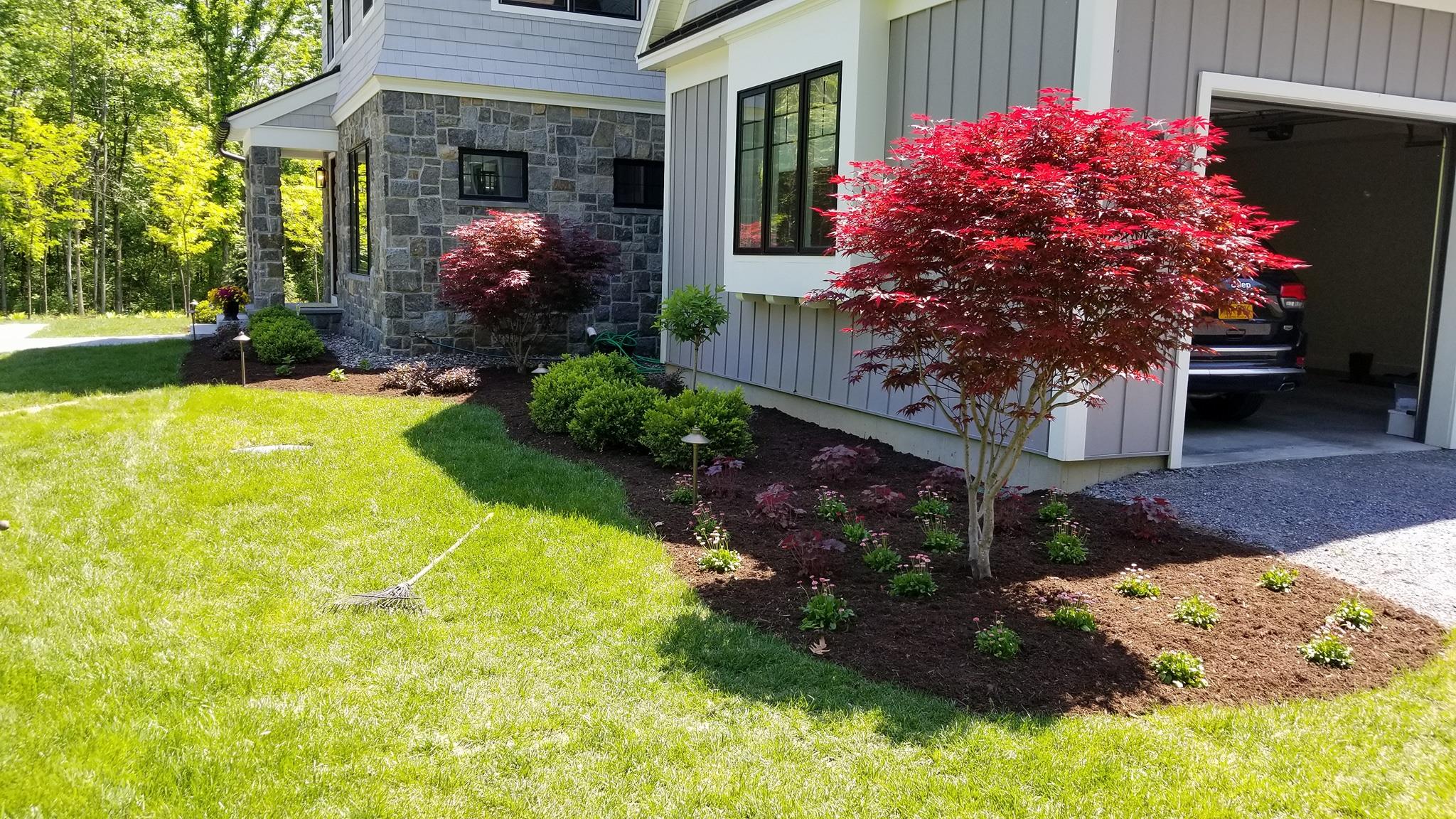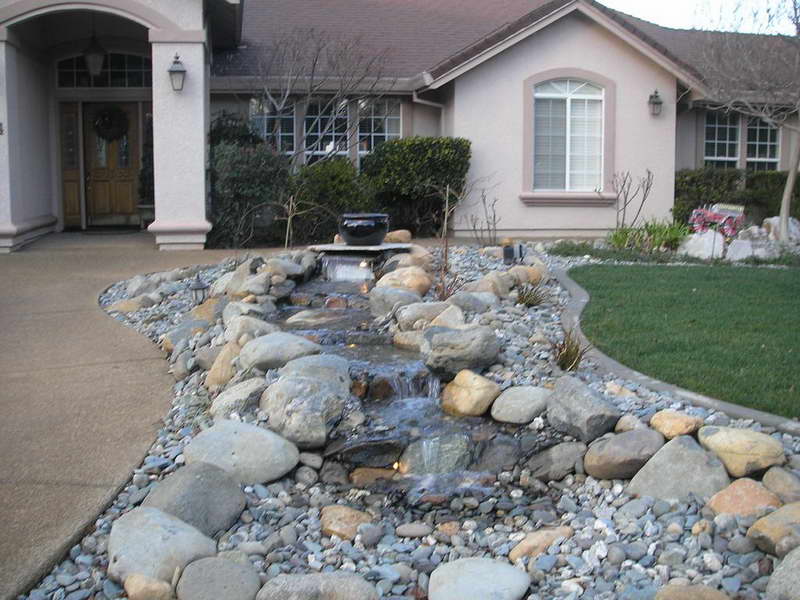 We use 100% locally sourced mulch, manufactured right here in the capital region of New York. Real Bark Mulch in Fort Edward is our source for the best mulch in the area. Their product has no other true competition in our area. They supply everything from the most basic bark mulch, to our favorites "French Roast" and "Saratoga Peat".
These products are filled with the best ORGANIC nutrients your plants could ask for. As the mulch or compost continues to break down, it releases essential nutrients into the soil and absorbed by the roots of your shrubs and ornamental trees.
Adding mulch or river stone to your beds is beneficial in many ways. Most importantly is appearance. We take our time and our money and invest it into our properties for one common goal most of the time. APPEARANCE!
We plant in front of our homes to try and blend in with the surroundings or build new surroundings. Mulch is the perfect way to accent the colors of the home and the plants around the home.
A great way to accent your home is to tie into the surrounding landscape. Natural landscape is full of many different colors that you wouldn't normally see on most homes and most homes are built using straight lines and square corners where natural landscape is full of curves and circles. Tying the two together can quite often be a difficult task. Especially with modern homes which are clean and very square.
Mulch also acts as a moisture retainer for the plants and helps keep the soil beneath cool and moist for much longer than any other covering.
Stone bed coverings however, are a great way to accent the home and reduce the maintenance involved with a traditional mulch landscape bed. River bed stone comes in many sizes and if installed properly you can still plant many different shrubs and trees in a stone bed. The most commonly used stones are 2″-3″ round river stones. Sizes all the way up to 18″ can be placed in many arrangements to add depth as well.
Stone landscape beds are a little more costly up front than a mulch bed due to the extra weight causing more labor and added materials needed such as "30 year  woven" landscape fabric. Fabric is not needed under mulch and we ABSOLUTELY do NOT install landscape fabric under mulch. Landscape fabric is a weed barrier and mulch is a weed suppressant. Weed will eventually grow in the mulch as well as grass and the roots often take hold of the landscape fabric and as you try and remove the weeds or grass you pull up the fabric making a bigger mess and causing higher maintenance costs in the future.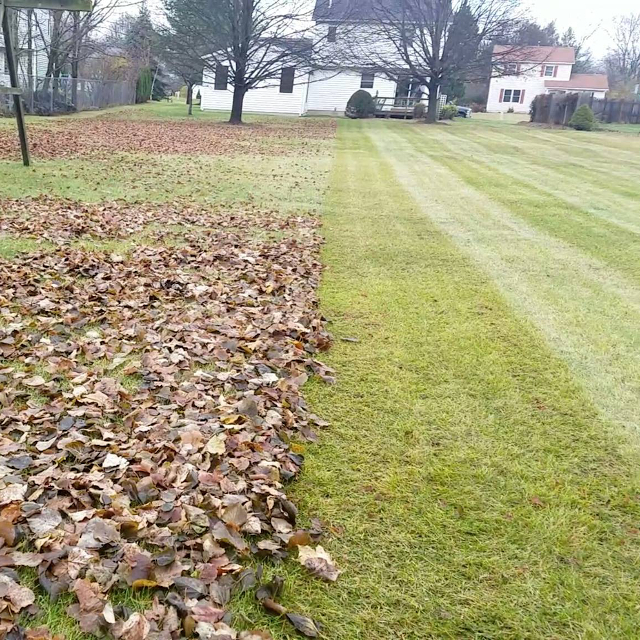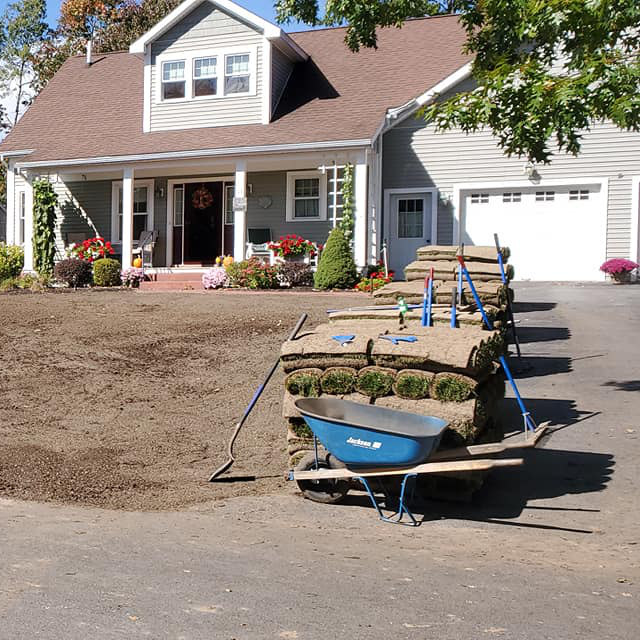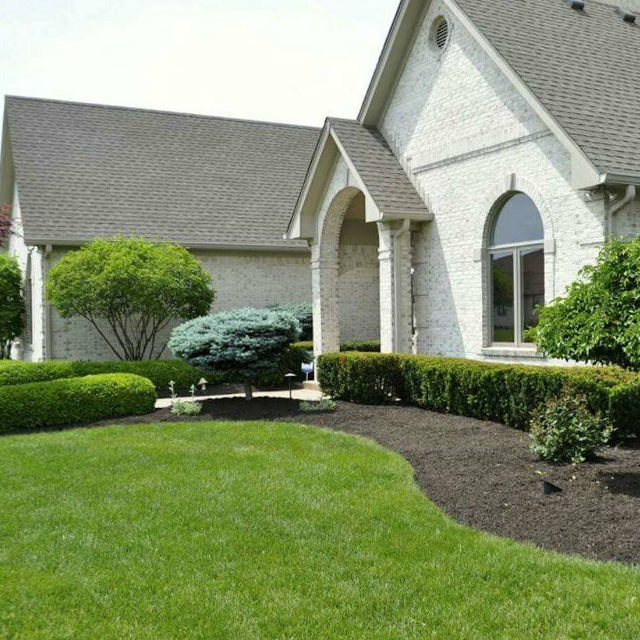 People Love The Lawn Care Co.

They were on time, professional, extremely easy to deal with and the final product was a slam dunk in our eyes. We were so happy, we have Dave and his crew returning this year to do more hardscape work and irrigation. If we had enough lawn to require maintenance with more than a pair of scissors, The Lawn Care Co would definitely be there taking care of that as well. Thanks again guys for a job well done. 

Dave and his team have a solid work ethic. It is his number one priority to give his clients what they they want and doing it right. I've seen several jobs he's done and I am very impressed. He knows what he's doing and he does it well. You won't go wrong calling TLC Co. for your landscaping needs including patios and lawn care.

The Lawn Care Co went above and beyond through every step of the process with our new patio. Their work was very detail oriented and when they were done I could not believe my eyes. Looked like a picture in a magazine. Highly recommend everyone calls them to quote out the work they desiring to do.
Message Us
Request your free estimate using the button below.
71 Big Boom Rd Queensbry, NY 12804
[/db_pb_map_pin]
Office Location
71 Big Boom Rd Suite 1A Queensbury, NY 12804