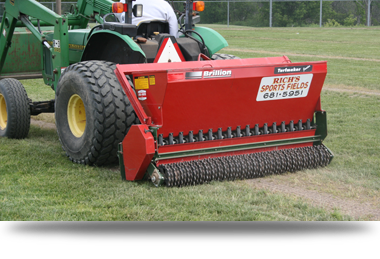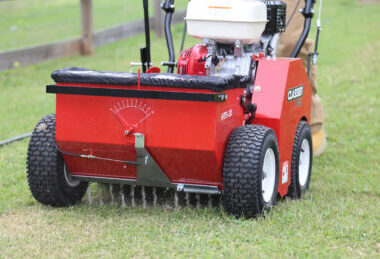 Slit Seeding is a process in which we mechanically cut slices roughly 1/4″-1/2″ while at the same time dropping new grass seed onto the turf just ahead of the blades. This allows the blades to cover the seed with some of the disturbed turf, or push the seed into the soil to help with germination process. We do this on an existing lawns to help fight disease, promote new growth, and fill thinner patches.
Slit seeding has other names such as "verti-cut" or "over-seed" (which can have an entirely different meaning). The slit seeding or verti-cut process shouldn't be confused with a simple over-seed process. Over-seeding is simply applying seed over the existing turf to also promote the same results. An over-seed is often done after a core aeration and slicing into the dirt is not necessary in that instance.
Slit seeders come in all shapes and sizes. Mostly based on the manufacturers design but also based as needs of use. In some cases in a much larger property your slit seeder would need to be an implement on a compact or sub compact tractor. This will help you cover more ground in less time. However, as great as that is, the tractor can only fit into so many places as it is a large machine. Other, slit seeders are designed to walk behind and in a similar fashion preform the same task. A walk behind slit seeder is often around 24″-30″. This is highly effective for small yards are hard to fit places for the tractor.
Many homeowners only need a slit seeding every few years to help boost their lawns "new growth" and further prevent disease, since diseases are limited in most cases to one species of grass and by adding more of the other species you can prevent the turf from thinning as the diseased grass dies off.
Slit seeding can be performed at any time of the "GREEN SEASON". However, dry conditions are helpful. If you try to cut the soil when it is too wet it will cause your blades to get covered in mud and is not as effective. After the slit seeding process is performed, it is best to apply a slow release starter fertilizer (as long as it does not interfere with your existing lawn treatment program) and watered 3x a day for approx 15-20 minutes per zone.
If you have an existing lawn treatment program you will want to be careful of when you apply your weed control products or when you complete your slit seeding service. Most of these products will prevent your new seed from germinating and the process will be fruitless if enough of these products are found in the soil. It is best practice to not apply seed and weed control products as close as 4 weeks from one another and as far as 8 weeks for products such as pre-emergents.
New lawns aren't inexpensive and beautiful lawns cost a bit to maintain. So making sure you are always following the advice of a trained professional or an expert on the matter is highly advised, as flushing your hard earned money down the drain is never advised by us.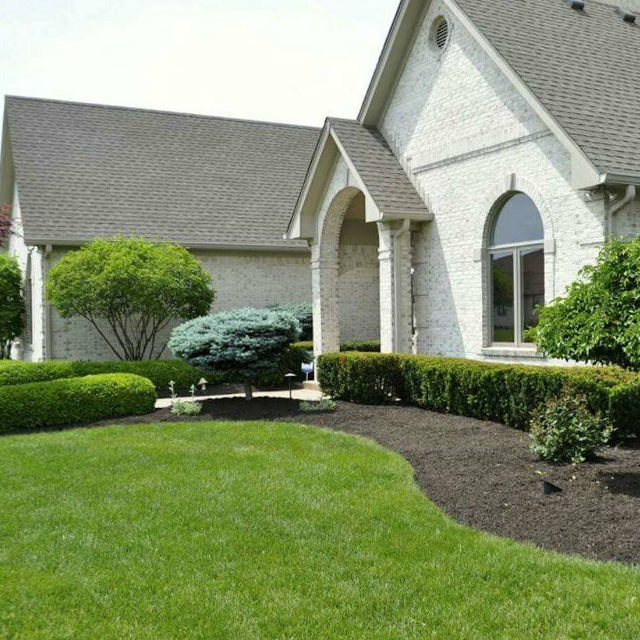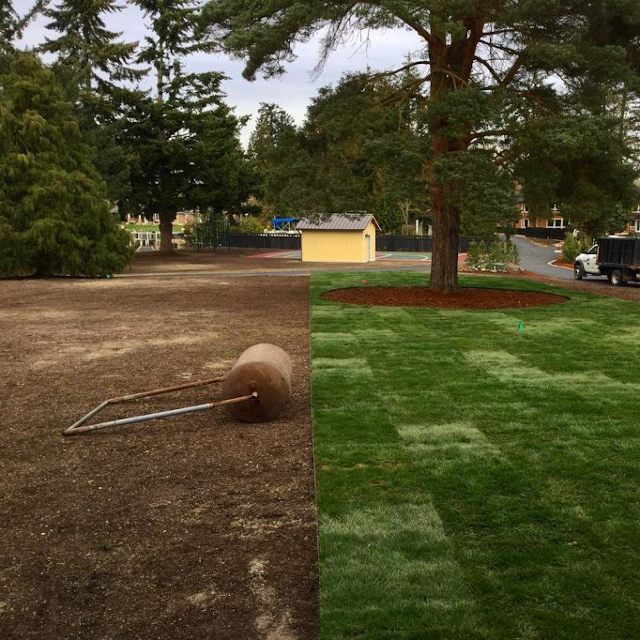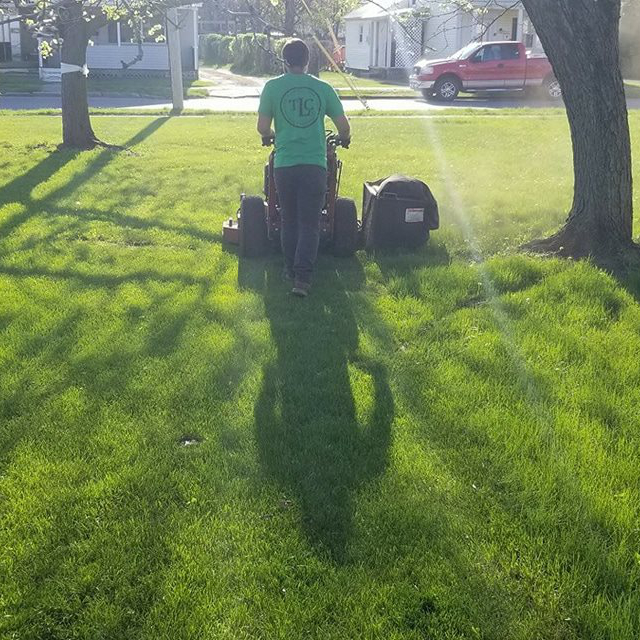 People Love The Lawn Care Co.

They were on time, professional, extremely easy to deal with and the final product was a slam dunk in our eyes. We were so happy, we have Dave and his crew returning this year to do more hardscape work and irrigation. If we had enough lawn to require maintenance with more than a pair of scissors, The Lawn Care Co would definitely be there taking care of that as well. Thanks again guys for a job well done. 

Dave and his team have a solid work ethic. It is his number one priority to give his clients what they they want and doing it right. I've seen several jobs he's done and I am very impressed. He knows what he's doing and he does it well. You won't go wrong calling TLC Co. for your landscaping needs including patios and lawn care.

The Lawn Care Co went above and beyond through every step of the process with our new patio. Their work was very detail oriented and when they were done I could not believe my eyes. Looked like a picture in a magazine. Highly recommend everyone calls them to quote out the work they desiring to do.
Message Us
Request your free estimate using the button below.
71 Big Boom Rd Queensbry, NY 12804
Office Location
71 Big Boom Rd Suite 1A Queensbury, NY 12804